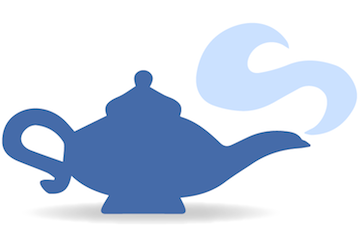 Does Aladdin want the lamp, the genie, or something else…
The Secret of Transparency says…he doesn't want the product, he wants the benefits of your product.
Selling the benefits of your product or service achieves much more than a bundle of features. And it's important to decipher the difference.
What Benefit Drives Aladdin
Aladdin doesn't really want the dull lamp – the product. He's not even really interested in the genie – a feature.
Aladdin is much more captivated by the wishes – or benefits – the lamp will bring into his life by the featured genie. Yet, Aladdin pursues even deeper benefits that will change his life – like gold, wealth and power.
But there's more…
These deeper benefits trigger even deeper benefits…core benefits. These kinds of benefits stir the prospect's core emotional and psychological needs where the decision to take action takes place.
What is Aladdin's key core benefit? It's Princess Jasmine and the promise of the happiness and success she brings into his life!
How The Secret Of Transparency Works
Your product or service is the window we peer through…and can see our selves in the near future. We're enjoying the product's many benefits. Ultimately making our lives better…easier… a problem solved.
Thus identifying the core benefits that drive the prospect to action. 
Mining The Core Benefits
Your product features are easy to find. Product managers, product specifications, and list of services help to identify them.
Benefits usually require some digging to define. I do benefit-oriented research to mine them.
Start with understanding the prospect
Discussions with product manager, business owner
Interview customers who use the product
Internet research
Study (and use) your product
By seeing how your prospect is transformed by the core benefits realized by your product or service, I customize your key messages, and I write compelling copy that builds a strong promotion.
White Papers, Case Studies
"Cindy's great strength is insight. She has a great sense of what CAN work…and has an attitude that opens up doors for her clients. Working a plan smarter to get to a result."
"I used Cindy's services to assist with a copywriting and branding job I was finding overwhelming. The guidance, research and thoughtfulness brought to the table was just what I was looking for…and the end product was awesome!"
"…she interviews my artists and writes articles that are published. I know my collectors and prospects read them because they tell me all about the articles!"
"…a very thorough researcher, collaborative team player, knowledgeable, willing to take risks (but not unreasonable ones), very professional, confident communicator…and super nice person to work with!"
"Cindy is so easy to work with…she listens to all of my suggestions and truly cares about the success of my business. She is professional, flexible, organized, creative, and amazingly affordable for all she does."
"Cindy is bright, diligent, and extremely adept with marketing strategy…insightful…a consummate pro with a great deal of integrity. I highly recommend her."
Call For A Free Consultation On Your Next Project: (386) 576-7262